Pre-Order A Ram 1500 REV Electric Truck


Pre-Order Ram 1500 REV
Are you ready for a Ram 1500 REV electric truck pre-order? After reading about everything we know so far about this late 2024 release, you will be ready to get your hands on a pre-order of this electric truck, which will likely boast power, convenience, and range, unlike many other electric trucks on the market.
A skilled team of experts has been working with this manufacturer to craft a game-changing electric vehicle that offers enhanced performance specs while helping you save on gas. Although many numbers have yet to be released for engine specifications, including horsepower and towing capability, we know that the Ram Revolution seeks to set the bar higher than its competitors.
Let's dive into what we know and what we can expect from the Ram 1500 EV truck so far. After you have read all of the announced details, visit our dealership to see how you can make a custom order Ram 1500 REV purchase today or in the future. Our team will answer all of your questions during the custom order process to ensure your dream vehicle meets your needs and lifestyle.
Ram 1500 REV Engine
We don't know much about what we can expect from the Ram 1500 REV engine since specifications like horsepower, torque, and towing capacity are unknown at this time. Further details will likely be released as we get closer to the release date for this vehicle sometime in the final quarter of 2024.
Although we do not know much about the Ram 1500 REV engine specifications, we know the new STLA Frame platform is used on the model, offering enhanced strength.
Taking a look at a Ram 1500 comparison might give us a good idea of the specifications we might see on the Ram 1500 REV.
---
Ram 1500 REV Range & Charging
No information has been released by the manufacturer about what we can expect from the Ram 1500 REV regarding range, but information is available about what we can expect from charging ports and more. Although we know that the Ram team seeks to push the boundaries on electric trucks, they have yet to confirm exactly how much range the Ram 1500 REV will be able to produce.
Choosing a Ram 1500 REV electric truck will give you home charging compatibility and allow you to charge your vehicle even if powering stations around town are down. A smart charging port may also be available on the truck, allowing you to lock the charging door and prevent tampering. This charging port will be weatherproof and offer charging options no matter rain or sunshine.
Inside the charging door, you will see indicator lights that will show your electric truck's charging status and how close it is to a full charge. These values will also be available inside the cabin, on the touchscreen in the front row, and on the digital cluster.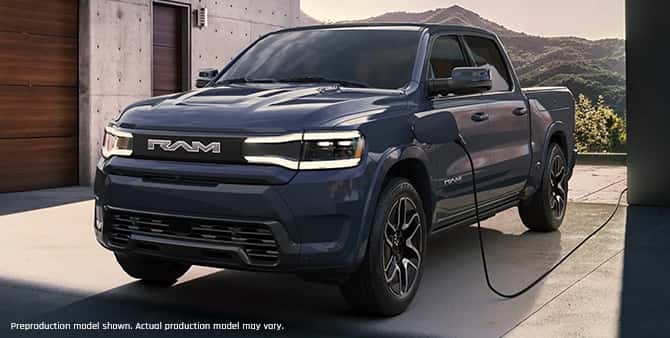 ---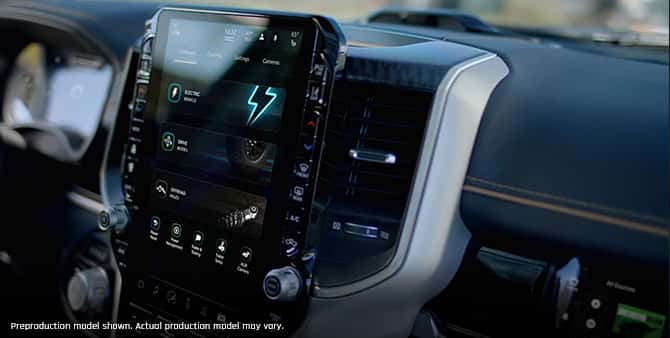 Ram 1500 REV Interior & Redesign
The Ram electric truck interior will offer some new, sleek, rugged designs. For example, the interior will include enhanced storage, including a frunk with ample space and one-touch open and close capability. You will also benefit from pass-through storage, which offers rails allowing you to store long items like 2X4s and more.
As you open the saloon-style doors, you will notice illuminated steps that make entry and exit easier, especially during the late evening or night when visibility is limited. Seat up to four passengers inside the stylish and rugged cabin. Those who are environmentally conscious might enjoy the post-consumer polyester recycled material that make up the seats, dashboard, doors, and center console.
Customize your cabin with available multifunction console, performance-bolstered seating, third-row removable jump seats, and pass-through storage. You may even be able to take advantage of biometric recognition and voice-activated remote vehicle control on this model.
---
Test Drive at Frisco CDJR Today
Are you ready for a Ram electric truck pre-order? Our specialists at Frisco CDJR are eager to help you learn all about what the Ram 1500 REV can get you and how you can customize your model to have the features you love. Our team will be more than happy to update you on our new Ram inventory when we receive the new Ram 1500 REV models in late 2024.
Until then, check back with our dealership often for the most up-to-date information. Consider stopping in for a tour and test drive of similar models on our lot, like Ram 1500 trucks and others that can help you get every job done.
Frequently Asked Questions
When can I buy a Ram Revolution?
The Ram 1500 Revolution is currently being designed and built, and we can expect a launch date sometime in quarter four of 2024. Check with our dealership, Frisco CDJR, for the most up-to-date information about this new electric truck as we get closer to the release date. We can help you stay notified when we get a Ram 1500 REV in stock.
How much horsepower will the Ram Revolution have?
The exact specifications for the Ram 1500 Revolution have yet to be released, so there's no way to say precisely what horsepower capability and engine type will be outfitted in this new electric truck. As we get closer to the release date, more information will be released about the specifications. In the meantime, we can enjoy the immersive concept gallery and interior design options released so far.
How far can the Ram 1500 REV go on one charge?
The range for the Ram 1500 REV has not been announced, like many of its specifications and highly-anticipated numbers for horsepower and towing capability. However, we know the Ram Revolution will be compatible with home charging and include a weatherproof charging port for safety and security. This Ram truck seeks to set the bar for all future electric trucks and offer enhanced numbers across the board.
---