Comparing The Chrysler Pacifica, Toyota Sienna, And Honda Odyssey

This article will compare the Chrysler Pacifica vs. Toyota Sienna vs. Honda Odyssey minivans. The minivan is still an unmatched people-hauling machine, useful for folks that have to take the kids and their friends — not to mention all of their gear — to practice or the big game. All of these vehicles seat at least seven people, but which one does so with the most comfort and style?
Honda Odyssey vs. Chrysler Pacifica vs. Toyota Sienna: Specs
The Honda Odyssey uses a 3.5-liter V-6 engine to generate 280 horsepower and 262 pound-feet of torque. That's certainly enough to motivate this car to fly down the road. It outstrips the Toyota Sienna by a great deal; this vehicle features a 2.5-liter four-cylinder engine with a hybrid battery-and-motor system for a total of 245 horsepower and 176 pound-feet of torque. Given the significant gap between the two, it's no surprise that the Odyssey has a more engaging acceleration.
The Toyota Sienna has all-wheel drive, while the Odyssey has front-wheel drive. The Sienna uses continuously variable transmission as a hybrid, while the Odyssey has a ten-speed automatic transmission.
Both of these minivans lose out to the Chrysler Pacifica, however. The Pacifica enjoys a 3.6-liter V-6 engine that makes 287 horsepower and 262 pound-feet of torque and is mated to front-wheel drive and a nine-speed automatic transmission. The vehicle is also offered as a hybrid, which increases its fuel efficiency and saves you money at the pump.
The Pacifica has better horsepower and torque than the other two minivans. It handles like a dream and will see you easily weave in and out of traffic. So far, as we compare Toyota Sienna vs. Honda Odyssey vs. Chrysler Pacifica, the Pacifica is winning.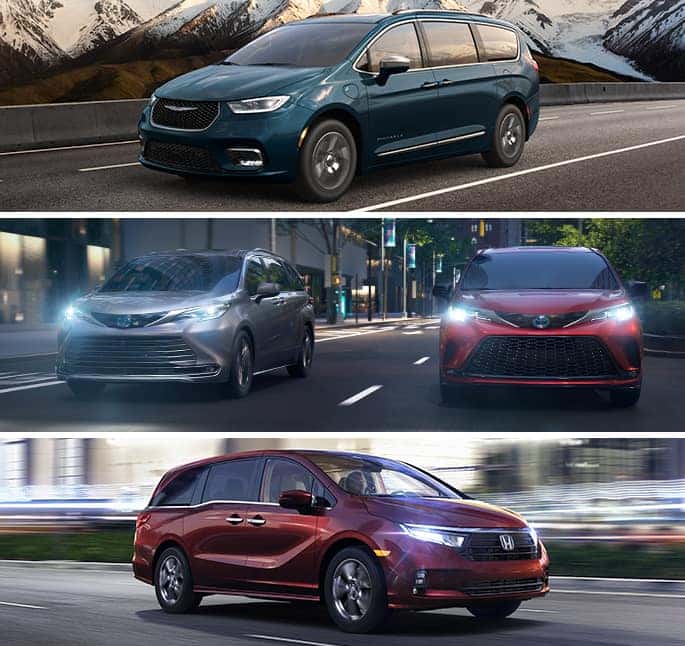 Compare Chrysler Pacifica Against Toyota Sienna & Honda Odyssey

Chrysler Pacifica – Touring
Toyota Sienna – LE
Honda Odyssey – LX
Average MPG
22
36
22
Cargo Space
32 cu. ft.
33.4 cu. ft.
32.8 cu. ft.
Horsepower
287 hp @ 6,400 rpm
245 hp @ 6,000
280 @ 6,000 rpm
Torque
262 lb-ft @ 4,000 rpm
176 lb-ft @ 4,400 rpm
262 lb-ft @ 4,700 rpm
Dimensions
204.3 inches (L) x 79.6 inches (W) x 70.7 inches (H)
203.7 inches (L) x 78.5 inches (W) x 68.5 inches (H)
205 inches (L) x 79 inches (W) x 68-70 inches (H)
Seating Capacity
7
7
7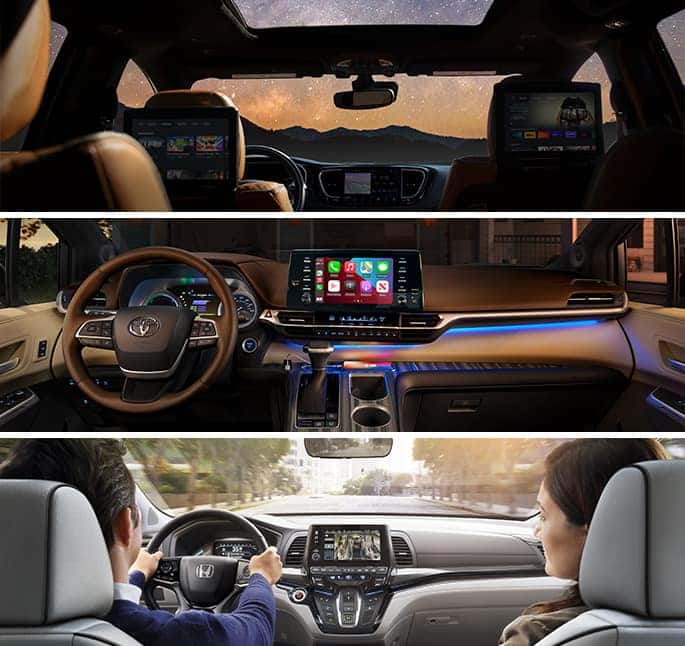 Toyota Sienna vs. Honda Odyssey vs. Chrysler Pacifica: Interiors
While power and acceleration matter, the comfort of the interior is perhaps the most important aspect of any minivan. Whether you're chauffering the kids around town or taking a long cross-country trip, you'll want your passengers to be relaxed. We'll now compare Pacifica to Odyssey to Sienna to see which one has the comfiest cabin.
When it comes to raw space, the Pacifica wins out. It has 165 cubic feet of passenger space to 162.5 cubic feet in the Sienna and 160.1 in the Odyssey. That means your passengers will have plenty of room to stretch out in the Chrysler Pacifica.
The Pacifica also has a refined interior. Depending on the trim you select, your minivan can be outfitted with quilted leather upholstery and luxury options like a heated steering wheel. You and your loved ones will be riding in comfort.
If you're ready to get into a Pacifica or another new vehicle, then it's time to browse our new vehicle specials. Our professional staff will show you their dedication to customer service when you work with us.
Pacifica vs. Odyssey vs. Sienna: The Victor
This article set out to compare Honda Odyssey vs. Chrysler Pacifica vs. Toyota Sienna minivans. We have examined their specs and interiors, and the Chrysler Pacifica has emerged as the victor. With the most muscular powertrain and the most luxurious interior, this minivan is the clear choice for families around the country.
Our star finance team will work hand-in-hand with you to get you a great low financing rate on any car from our expansive new inventory or used inventory. When you visit our dealership, you'll be greeted with a smile. Reach out and set up your test drive today. Thank you for reading our Chrysler Pacifica vs. Toyota Sienna vs. Honda Odyssey minivans comparison.
Frequently Asked Questions
Which 2022 minivan has the most cargo space?
The 2022 Toyota Sienna has 101 cubic feet of cargo space with its second- and third-row seats folded down. The 2022 Chrysler Pacifica and Honda Odyssey significantly outstrip the Sienna in this regard. The Odyssey has 140.7 cubic feet, while the Pacifica has 140.5 cubic feet. The difference is negligible and not enough to make the Odyssey more appealing than the Pacifica when considering other factors such as horsepower and luxury features.
Does the Toyota Sienna or Chrysler Pacifica have more room?
The Toyota Sienna has 162.5 cubic feet of passenger space, which is 2.5 fewer than the Chrysler Pacifica. Therefore, your passengers will be more comfortable in the Pacifica due to the space to stretch their arms and legs. That's to say nothing of the excellent lumbar support and general ergonomic design of the Pacifica's seating.
Which minivan is the longest?
All of these minivans have very similar length dimensions. The Toyota Sienna is the shortest, with an overall length of 203.7 inches. The Pacifica is next, with 204.3 inches. The Odyssey is the longest minivan of the bunch with a total length of 205 inches. However, these exterior dimensions are not nearly as important as the interior ones, where the Pacifica shines by having the greatest total passenger space.