Our 5 Star Treatment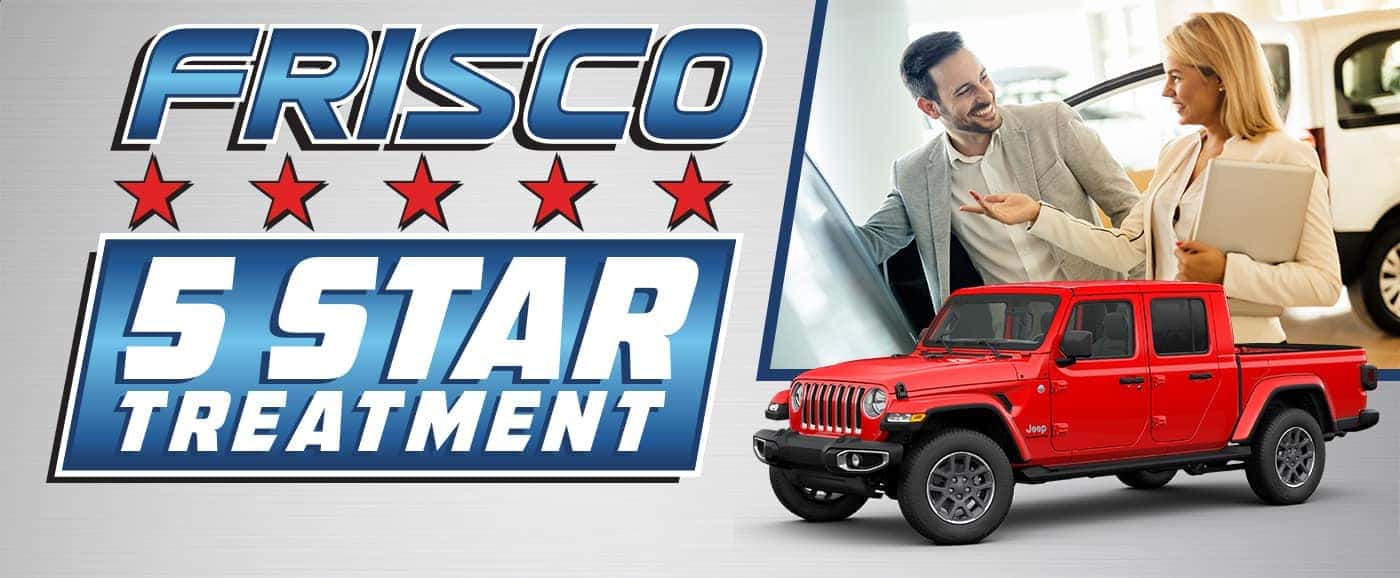 We'll beat ANY deal or pay you $1,500 CASH
Don't compromise your experience OR price. We'll beat ANY deal or pay you $1,500 CASH.* Come Feel the Frisco Dodge Difference.
(*must be a new vehicle with a signed offer from an in-market competitor)
More For Your Trade
Save time before even stepping foot in the dealership with our online hassle free trade evaluation and get a guaranteed value on your vehicle.
Love Your Purchase Guarantee
If within 72 your hours you don't love your new or pre-owned vehicle, come back and we will exchange it with guaranteed 100% satisfaction.
Customer First Award for Excellence
At Frisco Chrysler Dodge Jeep RAM, we're focused on the Customer Experience and Relationships
Custom VIP Experience
We are here to make your buying experience unlike any other. Our website makes it even easier with finance pre-approvals, instant trade evaluations, personalized test drives, service appointments and more. Once you come in, you will notice the difference with our customer lounges, friendly staff and no pressure buying.
Truly Better Place to Buy
Frisco Chrysler Dodge Jeep Ram is committed to providing the highest quality service to create "Customers for Life. We believe that complete guest satisfaction in all areas of operation is the key to our success and future growth. Underlying this mission is the recognition that our team members are vital in achieving the Company's goals and enhancing our reputation as innovative leaders in the automotive industry. Our commitment to our guests and employees is matched by our respect for the DFW community we serve.
To Truly Be a Better Place to Do Business
We conduct ourselves with the highest standards of professional ethics, honesty and integrity.
Offer and deliver exceptional products and services at a reasonable price.
Build, Operate and maintain the finest automotive dealerships in the industry by hiring the best employees. Create and promote an environment of teamwork and mutual respect among our team members
We Truly Appreciate your business.
Our commitment to excellence is reflected in our company missions statement.
"To be an innovative industry leader, totally committed to customer satisfaction, employee satisfaction, integrity, and teamwork."
Frisco Chrysler Dodge Jeep RAM is 100% privately owned. We are supportive of many local community events and charities.
In contrast to most dealerships, Management makes themselves available to all customers if they should ever need them; many dealerships are owned by large public companies where speaking to the decision maker is not possible.
We have consistently maintained the highest customer satisfaction index scores for our district.
Certified sales staff to provide accurate, friendly and fast information about Frisco Chrysler Dodge Jeep RAM products and purchasing information.
We willingly provide information on pricing, payments, and trade figures as well as interest rates, without any hassle or commitment. We want you to have all the information necessary to make well-informed decisions when you're ready.
Our knowledgeable and trained business managers are here to provide you with a comprehensive selection of financial alternatives to customize your vehicle purchase to fit your individual needs.
East to access for service appointments at desired times. Fully Certified technicians – a qualified team to accurately diagnose and complete service requests.
Convenient sales and Service Hours